How Beneficial are Christian Mission Trips?
The number one goal of a mission trip is to spread the Gospel to unreached people. Using this metric, many mission trips have positive outcomes because the Word of God is spoken to people who have not heard it. Often, upon hearing this good news, people give their hearts to Christ. However, there are other good and positive things that can help impact those in need as well that take place during a missions trip.   
When someone embarks on a missions trip, they often have an impact on entire communities. While the main goal is to save the lost, it is vital to refrain from burdening the community you are seeking to see saved. Paul explained this well in 1 Corinthians 11:9 when he said, "And when I was with you and was in need, I did not burden anyone" (ESV).
Following this idea, mission trips often center around a project (or a few) to benefit the community. This could be anything from a medical mission trip providing care to those who need it in India, visiting and working in an African Orphanage, putting together a vacation bible school camp for children in the Ukraine, or even a working on a building project in South America.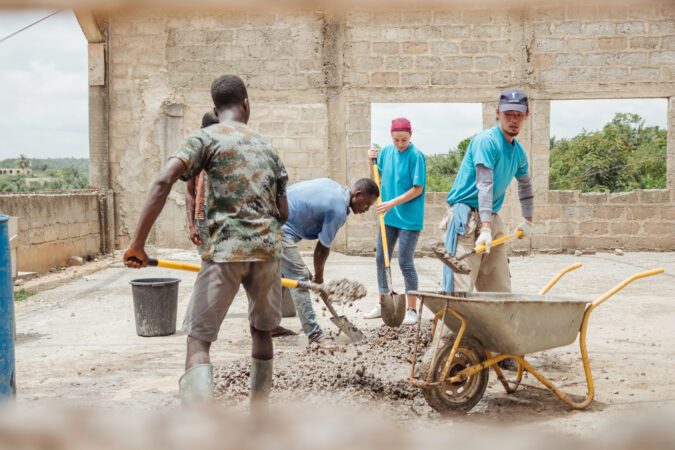 It is true that going on a trip like this, can have a profound impact on the adults, young adults, couples, students, and families that choose to step out in faith. For many, there is no greater way to grow their relationship with Jesus than to share His name with others. Anyone who has ever gone on a mission trip, as a believer, knows how powerful (although challenging) it can be. Mission trips are influential and have the ability to change the lives of everyone involved.   
All of these benefits and measures of success are extremely challenging to quantify and there is a lack of data on the success rates of Christian mission trips. However, there are over 2 million active Christian missionaries in the world and there is an average of $2 billion spent on mission trips each year. With this in mind, it is clear that Christian mission trips are helpful, often successful, and beneficial for those hearing and sharing the good news.  
How long do mission trips usually last?
Mission trips can vary in duration significantly depending on the projects and goals of the trip and how many people will be reached. Many trips last a week or two, while others can be months or years. Some are bold enough to leave everything behind and move to the place God has invited them to be for the rest of their lives.
Operation Mobilization (OM) missions' trips are often over six months because it gives you time to train and to get connected with a team and the people you will serve. To learn more or apply for OM's short-term and long-term mission trips please visit the following pages.
One thing to note about OM's long-term opportunities is that you can find a job within your area of expertise and continue your career while spreading the Gospel to unreached people as well. To learn more about planting your career in a place where Jesus is less known you can book a call with our team to talk about your experience and where you possibly could envision yourself. 
What else should you know about Christian Mission Trips?
It is true that going on a missions trip will be unlike anything you've experienced, if it is your first time. Before you go, it is important to prepare spiritually and emotionally for this experience, and also learn as much as you can about the area, culture, and people. Our team at Scatter Global has created an amazing: https://www.scatterglobal.com/11-things-i-wish-i-knew-before-i-got-my-first-job-overseas/.   
 Also, know that there will be struggles and difficulties. John 16:33 assures us of this saying, "In this world you will have trouble. But take heart! I have overcome the world" (NIV). Along with knowing that there may be hardship and unexpected obstacles, God also promises that He will be with us, so we are called to take courage. We can take courage by remembering the question begged by Paul, "If God is for us, who can be against us?" (NIV).  
It is beneficial for you to know that if you go on a trip with OM, we will walk alongside you and support you in living out what Jesus has for you. This can come in a number of forms. First, you have the opportunity to join the larger OM community where you will be supported with encouragement and prayer. Another option is joining a specific team in which you will be trained so you can be better prepared to fulfill the Great Commission. Finally, OM can ease some of the financial burdens of following the call of Jesus by offering monetary support.